Program for Jervis Bay Sailing Club
Please click
DRAFT Program
for a copy of the DRAFT program in PDF.
Jump to DRAFT Program Table (below)
Note: There are likely to be many changes as events at other clubs are confirmed
For Latest Minutes Advantage Handicaps for Pointscore Races in PDF click
HERE
Also check the
Special Events
page for details of additions to the Program
------------------------------
The Club runs three series throughout the season using various courses (see below):
Championship (scratch start).
Sprint (scratch start).
Pointscore (handicap start).
Common Courses - Olympic Triangle with Port Roundings (Red Flag) (as shown in diagram); Starboard roundings can be used (Green Flag)
The courses for the three events run by the club are:
Championship (scratch start)
=> Start-Triangle-Sausage-Triangle-Finish
Sprint (scratch start, several races each day after Championship)
=> Start-Triangle-Sausage-Finish
Pointscore (handicap start - minutes advantage)
=> Start-Triangle-Sausage-Triangle-Sausage-Finish
----------------------------------------------------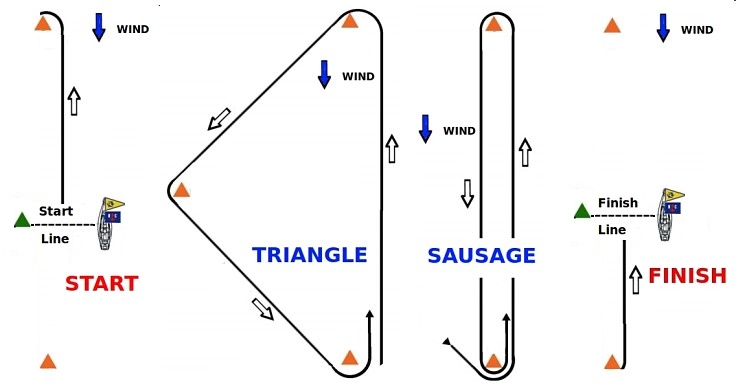 Amendments to the Pointscore Handicap Systems
Note: For the Pointscore the slower yachts are given several minutes start ahead of the faster yachts ('Catch me if you can'). Ideally all yachts should finish very close together.
The handicaps are adjusted after each race according to the following scheme:
1st place => loss of 2 minutes
2nd place => loss of 1 minute
3rd place => no change - stay as you are
4th place and all other starters (including DNF) => plus 1 minute
All non-starters have no change to their handicaps, except when all the scores need to be adjusted to avoid negatives. For example, when the winner has a Minutes Advantage Handicap of 1 minute and would lose 2 minutes, to a -1 minute handicap for the first place, ALL handicaps are increased by 1 minute so that the winner's new handicap is 0 (zero).
Note: The committee and handicapper will make periodic adjustments to the system to keep it as fair and functional as possible, and to assign handicaps to new members and visitors.
See the latest Minutes Advantage Handicaps as PDF
Jervis Bay Sailing Club 2018/2019 Calendar - DRAFT DRAFT!!!
| | |
| --- | --- |
| Date | Event |
| Sat, 2 Jun 18 | 1st Frost Bite Race |
| Sat, 7 Jul 18 | 2nd Frost Bite Race, AGM/Presentation/BBQ |
| Sat, 4 Aug 18 | 3rd Frost Bite Race |
| Sat, 1 Sep 18 | 1st Warm up Race |
| Sat, 22 Sep 18 | 2nd Warm up Race |
| Sat, 29 Sep 18 | October Regatta; Spiral TT Heats 1 |
| Sun, 30 Sep 18 | October Regatta |
| Sat, 6 Oct 18 | Champ/Sprints 1, Spring Start BBQ, GOF Heat 1 at Callala |
| Sat, 13 Oct 18 | Points 1 |
| Sat, 20 Oct 18 | Champ/Sprints 2; Spiral TT2 Taree SC |
| Sat, 27 Oct 18 | Points 2 |
| Sat, 3 Nov 18 | Champ/Sprints 3; ACT Dinghy Championship; Spiral TT3 Canberra YMCA SC |
| Sat, 10 Nov 18 | Points 3 |
| Sat, 17 Nov 18 | Champ/Sprints 4; Spiral TT4 Dobroyd AC |
| Sat, 24 Nov 18 | 24 & 25 - Hosting OK Dinghy Championships – No Club race to Support Event |
| Sat, 1 Dec 18 | Points 4; Spiral TT5 Teralba ASC |
| Sat, 8 Dec 18 | Champ/Sprints 5 |
| Sun, 9 Dec 18 | Illawarra Sailing Club; GOF Second Race TO BE CONFIRMED |
| Sat, 15 Dec 18 | Points 5, Spring End Race BBQ |
| Xmas Break | No Races Over Xmas Break = > Race on 22 Dec ?????? |
| Sat, 5 Jan 19 | Champ/Sprints 6, Summer Open BBQ |
| Sat, 12 Jan 19 | Points 6; Spiral TT6 Concord and Ryde SC |
| Sat, 19 Jan 19 | Champ/Sprints 7 |
| 26-28 Jan 19 | No Race – Spiral Nationals 26-28th Illawarra Yacht Club |
| Sat, 2 Feb 19 | Points 7 |
| Sat, 9 Feb 19 | Champ/Sprints 8 |
| Sat, 16 Feb 19 | Points 8 |
| Sun, 17 Feb 19 | Nowra Marathon; Spiral TT7 Nowra Sailing Club |
| Sat, 23 Feb 19 | Champ/Sprints 9 |
| Sat, 2 Mar 19 | Points 9 |
| Sat, 9 Mar 19 | Champ/Sprints 10 |
| Sun, 10 Mar 19 | Spiral TT8 Southern Highlands SC, Fitzroy Falla |
| Sat, 16 Mar 19 | Champ/Sprints (added to replace missed event ) |
| Sat, 23 Mar 19 | Points 10, Summer End Race BBQ |
| Sat, 30 Mar 19 | Champ/Sprints 11, Autumn Start BBQ |
| Sat, 6 Apr 19 | Points 11 |
| Sat, 13 Apr 19 | Champ/Sprints 12; Spiral TT9 Chipping North Lake SC |
| Sat, 20 Apr 19 | No Race - Easter Break |
| Sat, 27 Apr 19 | Points 12 |
| Sat, 4 May 19 | Champ/Sprints 13 |
| Sun, 5 May 19 | Peter Loft Marathon (BYRA), Pittwater, Spiral TT10 |
| Sat, 11 May 19 | Points 13 |
| Sat, 18 May 19 | Champ/Sprints 14 |
| Sat, 25 May 19 | Points 14, End of Season BBQ |
| Sat, 1 Jun 19 | 1st Frost Bite Race |
| Sat, 8 Jul 19 | 2nd Frost Bite Race, AGM/Presentation |
| Sat, 3 Aug 19 | 3rd Frost Bite Race |
| Sat, 7 Sep 19 | 1st Warm up Race |
| Sat, 28 Sep 19 | 2nd Warm up Race |
| Sat, 5 Oct 19 | October Regatta; Spiral TT Heats 1 & 2 |
| Sun, 6 Oct 19 | October Regatta; Spiral TT Heats 1 & 2 |