Jervis Bay Sailing Club
---
What's New:
Results for the Championship and Sprints Races held on 18 May 2019, are now shown.
Garry Foley and his buddy, excelled with a great course in the light, shifty 5-8 knot SSE breeze, Conditions were sunny and cool - ideal conditions for the mixed fleet of 11 yachts!! Wonderful to see Rob Douglass back sailing and training with us for the last two races. Mike Robbins sailed his Alpha Omega catamaran once again, and two spirals from Nowra Sailing club also joined in. Geoff Carne sailed another of his International Canoes which really flew when it was upright (!!), especially on the reaches.

For the club members, the Championship race was won by Rob Douglass (Laser) from Nev Lotze (Impulse) and Merv Lotze (Spiral). Dave Ginty (Spiral) finished 4th, and Geoff Carne (IC) was 5th after yardsticks were applied. Rob Douglass (Laser) and Merv Lotze (Spiral) won the two Sprints, with Nev Lotze (Impulse) second in all three races. Mike Robbins had a win, a second and a third for line honours in the races - well done Mike!

The Overall Pointscore leader is Damien & Jacob Bates (Contender) from Richard Pryor (Spiral) and Dave Braidwood. All three are in contention with one final race to go.

Preliminary Overall Championship place getters for the season are Merv Lotze, Nev Lotze and Richard Pryor.

Preliminary Sprints place getters for the season are likewise, Merv Lotze, Nev Lotze and Richard Pryor.

The next Race on 25 May is a Pointscore event, with Dave Braidwood on duty. Expect to see Richard Pryor and Damien Bates match racing and covering as they do battle for the end of year results hanging on the last race. A bit of ad hoc coaching from Rob Douglass, and a hint to ease the vang right off on the Spiral in light winds, produced a blistering surge of speed for Richard. There will be as BBQ after the race to celebrate the end of the season. Please bring your own food and drinks. Cheers!!.
For the Latest Results for the Club races
See RESULTS
---
Please NOTE: Memberships for the 2018-2019 season are now due:
New Member Application Form or
Renew Your Membership for 2018-2019

Note: A new membership category of 'Crew' has been added for $55 per year. Crew Crew Members shall be entitled to all the privileges of the Club other than the right to hold office, vote at the annual general meeting, or at committee meetings. They also do not have the right to skipper or enter a yacht in events conducted by the Club, except for special events as guest skippers and relief skippers. Crew Members will be registered as Australian Sailing card holders (SIN) by the club, to satisfy the 46 PERSON IN CHARGE rule, and would be covered by personal accident insurance provided by Australian Sailing. Crew are encouraged to join the club as Full or Crew Members, after they have sailed three races as guest crew in a season. Crew who are financial members of other clubs, and have a current SIN, are not necessarily required to join the club, but it is encouraged, if they crew regularly. Associate members do not sail but enjoy the social benefits of the Club and its activities.

Please Note: Membership forms need to be completed and signed before membership registration can be uploaded to Sailing Australia (formally Yachting Australia) web site. Payment is not sufficient. If forms are not completed and paid by 30th September, personal risk insurance provisions will lapse. Sailing Australia have advised that 1 December is deadline for membership renewals to be finalised (so please submit your forms)

Get involved by joining the committee
Committee Nomination Form
---
See
DRAFT Program for 2018/2019
For
News, Upcoming Events and Regattas
, and
For Sale Notices
see
NEWS
See
Australian Sailing Safety Page and Special Regulations
and
NSW Marine Safety Regulations
and
Australian Sailing => 2017-2020 Racing Rules of Sailing with Australian Sailing Prescriptions and Addenda
See
Draft Sailing Instructions
See
Race Day Risk Assessment
---
Jervis Bay Sailing Club conducts races at Callala Bay on Saturday afternoons throughout the sailing season, from the October long weekend to the end of May, inclusive. Briefings are at 1:00pm and races start at 1:30pm.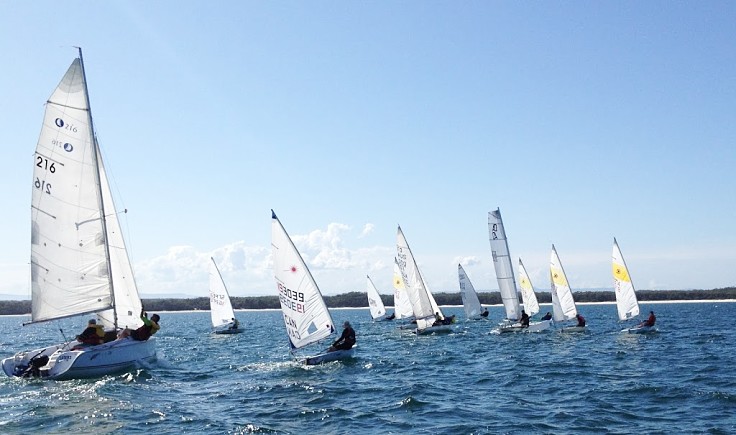 Additional Frostbite Series races are held on the first Sunday of every month during winter off season, briefings are at 1:00pm and races start at 1:30pm. The club also hosts Special Events and Championships - see Special Events for details.
All off-the-beach dinghies, catamarans and smaller Trailer Sailers are welcome. Visitors are most welcome. Just come to the rigging area and introduce yourself! To join the club and start racing please complete: Contacts:
click link to email
=> David Braidwood, Commodore
Telephone: 0421 191 009
=> Steven Lymbery, Secretary / Treasurer
Telephone: 0400 104 451
We are located near the Callala Bay Boat Ramp. The street address is 42 Boorawine St, Callala Bay, NSW, which is approximately 3 hours from Sydney and Canberra.